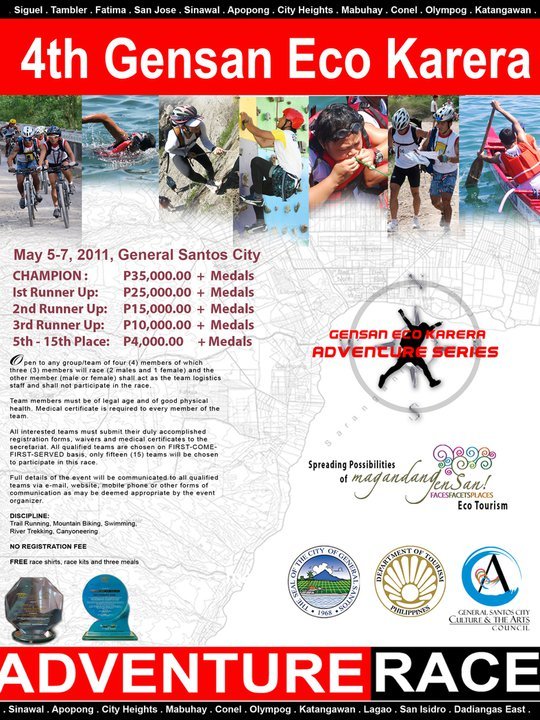 The 2010 Best Tourism Event Sports Adventure Category City Level by the Association of the Tourism Officers of the Philippines (ATOP) is now on its FOURTH YEAR!
Gensan Eco Karera

Adventure Series aims to test the Human Endurance and Skills of the Adventure Racers across Mindanao with much more demanding challenges for the year 2011 will be on May 5-7, 2011 across the 14 Barangays of General Santos City.
Charing the event is the Committee Chairperson on Tourism, City Councilor Virginia Llido, while Mr. Jing Velos who served as the Event Director for the previous Eco-Karera is still handling the event like his very own baby.
A Re-Launching/Opening Program will take place on May 4, 2011; 4:00 o'clock in the afternoon at the Queen Tuna Park together with the opening of the 1st Dadiangas South Un DadSan Festival.
The Race Managers promised a much more complicated and demanding challenges for the teams coming from all over Mindanao. This will also showcase the natural wealth and wonders of General Santos City particularly of the 14 Barangays of the City.
Interested Teams may check this link for more details or you may find them on FaceBook: www.facebook.com/gensanecokarera